As I tell you about our last full day it is going to sound like the stuff of fairy tales or that I had been too long a sea and was hallucinating this day but this really happened.
It was sunny and warm but was also a day of sporty conditions. 22 knot winds and white horses and rollers as far as the eye could see. From the tops of the waves we could see forever in every direction and then would head down into a trough before riding up the back of the next wave. It was fun and invigorating sailing. The sort of day that allows you to forget all of the hard stuff, to feel that all is perfectly well in the world and wish you could sail every day.
A few days before the beautiful big blue spinnaker had been torn when an unexpected squall came through in a fit of rage. Somewhere between the wind shift, the increase in wind speed the rounding up and some mad flailing and flogging two tears appeared in the fine material and we have not been able to use it since.
For the last few days we have been flying a code C sail at an apparent wind angle of 150 degrees. We know we are asking a round peg to fit into a square hole and we have done everything we can to assist this. The sail has shown a dissatisfaction with this arrangement and has quietly and repeatedly tried to resist being something it isn't. We persist with bending it to fit our needs and now have a somewhat happy arrangement.

We are on a beam reach headed directly for Grenada, we are moving along between 9 and 11 knots in 22 knots of breeze. The sun is shining and the ocean is an unimaginable blue. The flying fish are putting on a real show this afternoon. Several little groups of them come by always entertaining to watch their flashing silver torpedo bodies, and their antics before an eventual unplanned crash into a wave. This is the sort of day that sailors dream of. We are all on deck taking this all in.
As if this isn't enough in itself, it starts with one dolphin swimming in the wake behind our boat. Soon there are four or five, this is so thrilling to see as they accelerate to get to the bow. Only a minute later there are more than 10 and as we look behind the boat again there are dolphins everywhere, absolutely everywhere! There are 50 or more accelerating through the water making their way to the bow wave and leaping out of the water and under the boat. We put Optimistic on autopilot and we all make our way to the bow to watch. There are literally hundreds of dolphins that come and swim along with us. This is the most incredible up close display and interaction with nature that I have ever had. (Well at least equal to the baby rhino interaction I had years ago in Royal Chitwan in Nepal). Over the next 10-15 minutes these wonderful creatures continue to swim along with us and then past us to their next destination. I sit right at the bow and lean over. There is a palpable joy in the air, they have changed the day energetically and we are all charged with the same absolute joy that they have transmitted. There are so many and we are so close to these dolphins that we can hear them communicating with each other. There are constant clicks and whistles. I feel as if I am floating and then they are gone as quickly as they arrived. We see some final silvery backs in the sunshine and it is all over. We all feel quite lifted by this experience but it is a bit like someone turning the lights off when they go.
It's hard to focus on anything else for the next while, I am in awe of this dolphin visit for hours. I can not think of a better experience to have on our last day.
We round the last point on the island and the finish line comes into sight. This point of an ocean journey is a real mix of emotions for me excitement, relief, disbelief, a tinge of apprehension. There's a pull of the land and all of the comforts and ease that there is on land. I experience an equal almost greater and opposite pull of the ocean. Although not yet on land I already yearn for the simplicity and perfect beauty of crossing an ocean on a sailboat.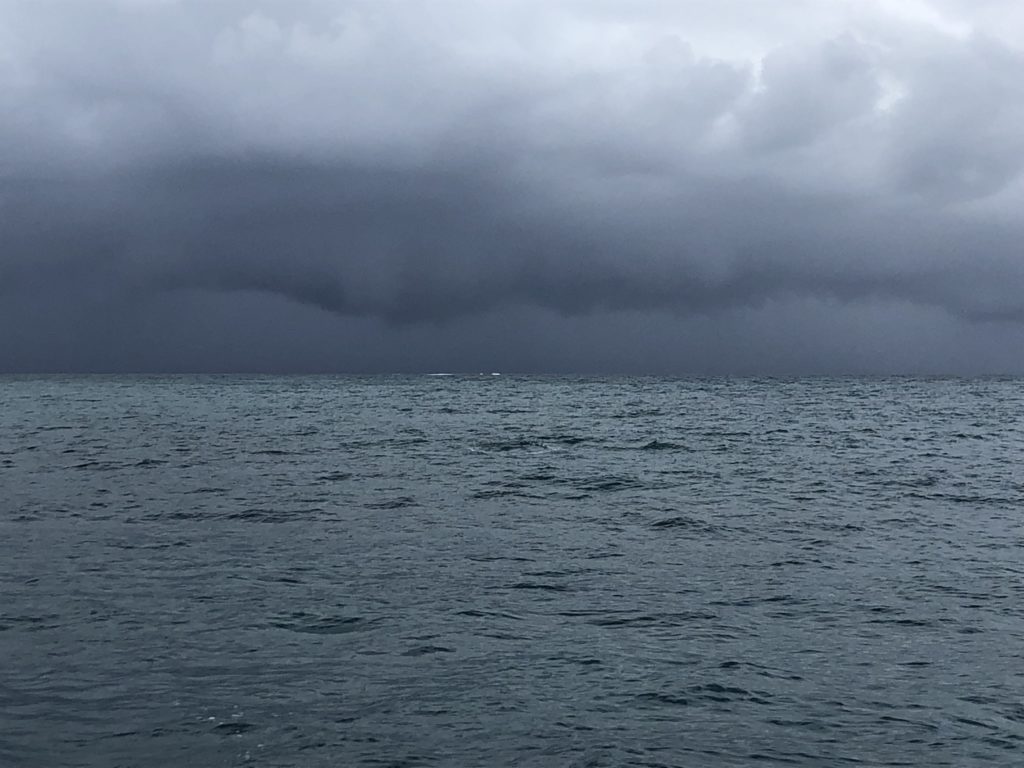 We cross the finish line at 3.55pm and do all the things we need to do to prepare to dock. We drop our sails and turn on the engine. We prepare dock line and fenders put on shoes. As we are heading into the harbour a sailboat is heading out to sea and I almost wish I was going that direction as well.
When we arrive at the dock we are met by a cheer and a crowd of other boats and sailors who have recently arrived come to greet us. I step off the boat feeling slightly dazed and wobbly. We are handed rum punches that could knock out a donkey. Someone takes our picture and I can see we all seem slightly lost without our routine of watches and tending to the boat and the sails.
We will spend the next week enjoying the Caribbean sunshine, completing boat projects and exploring Grenada before we scatter in our own directions. I am already thinking about my next ocean voyage.